Welcome to

Virtual FFS

The Virtual Facial Feminisation Website
Visit Virtual FFS on Facebook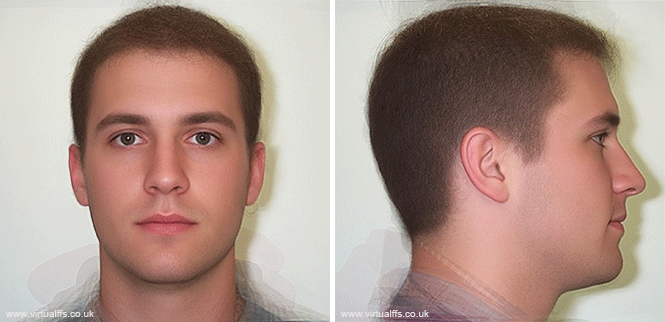 I've created this site to help you plan your facial feminisation surgery. I am not associated with any particular surgeon and I can give a you a professional and completely independent opinion on your needs. You simply email me some photos of your face and some information to virtualffs@btopenworld.com then you make your payment and in return I do 3 things:
1: I assess your face and explain to you what makes it look masculine.
2: I explain which surgical procedures are likely to make your face more feminine.
3: I alter your photographs in Photoshop to show you how the surgery is likely to look.
The website itself also has detailed information on the differences between male and female faces and the techniques used in facial feminisation surgery. In fact, the website now runs to more than 35,000 words! Which includes a 10,000 word thesis based on my 10 years of experience feminising more than a thousand faces and my independent research into facial gender.
My research, based on averaged male and female faces like the ones shown above (these are called prototypes) has redefined facial feminisation: I am the first researcher to publish a reliable method for judging the height of the hairline using my "Lipuhai rule". I have also established the "Box rule" and "Bronochi rule" to allow patients and surgeons to assess chin height more reliably.

I have also overturned many common misconceptions about facial gender. For example: I have shown that male hairlines are actually lower in the middle than female hairlines; that female eyebrows are not higher than male eyebrows in the way that many assume and I have shown that wide jaws are not necessarily masculine.

You can read all this research freely in my thesis and throughout the website. I hope it will help you understand your own needs and feel more confident during consultations with surgeons. I also hope it will help surgeons better understand the key differences between male and female faces so that they can achieve more natural results for their patients and avoid putting them through unnecessary procedures.
For more details on exactly what to send me, what you get in return and all my prices, please follow the links on the left.
I will be doing more free co-consultations with Facial Team in the next few months:

1 of February, Milan.
22 and 23 of March, Eastbourne.
24 of March, London.
12, 13, of July Manchester Sparkle.
14 of July, London.
I will probably be at all these consultations but it sometimes depends on how many bookings there are.

To book your appointment email Lilia at FacialTeam: info@facialteam.eu Please note: the consultations will only happen if enough people book an appointment.
You get 2 independent opinions on your FFS needs - one from me and one from Dr Simon or Dr Capitan. I will also take some pictures of you and show you some of the possibilities with Photoshop (I show you the changes for free - you only pay if you want to have copies of the pictures to keep).

Although I am happy to work with the Facial Team surgeons and find that we have very similar approaches to facial feminisation and ethics, I remain independent from them and give a second opinion during the consultations and if I disagree with them on any aspect of your case, I will say so.

Site updated on 18 of November, 2013
If you quote anything from my website or my thesis, please credit the source - thank you. Do not use any pictures from the site without my permission.